Fast Banner Printing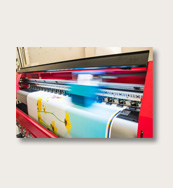 Banners are a historical staple of business advertising, and their evolution has made them even more versatile and effective. Today, business owners can use banners to increase brand exposure and promote products and services quickly and affordably. Our Los Angeles fast banner printing services offers this print product with plenty of options, including different sizes, materials, inks and finishes. Here is more about our banner printing services and the customization offered during the banner production process.
Compared to many other advertising options, banners allow for greater exposure and a more versatile display without costing as much. While banners are available in smaller sizes, larger banners can be effective alternatives to billboards. The ability to mount banners in virtually any setting can eliminate the need to rent advertising space. Banners are significantly larger than flyers and stickers, ensuring that target markets will see the chosen advertising message across wider areas. Newer materials and inks also allow business owners to display their banners indoors or outdoors as they prefer. Our fast banner printing in Los Angeles includes digital design and formatting for this print product, so clients can have cohesive banner campaigns with similar design elements.
Fast Banner Printing Los Angeles
Clients can have banners made to their specifications in terms of design and materials when they visit our print shop. Business owners can create their banner designs themselves if they prefer, but our designers can also produce unique banners to address the goals of clients. Revisions are offered free to ensure total satisfaction. Paper can be used to make banners for indoor locations, and vinyl can be chosen for banners that withstand the elements and repeated storage. Both glossy and matte inks and finishes are available with our Los Angeles fast banner printing services.
Advertising is vital for success in any business, and banners are among the top options for affordable, large-format promotion. Thanks to our fast banner printing in Los Angeles, clients can receive this print product and get started on a new ad campaign without delay. Clients can visit, call or email our print shop to learn more about our services for banners and other same day printing in Los Angeles.