Same Day Lamination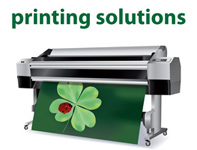 Lamination involves sealing paper or other printed products beneath a layer of plastic. Not only does this technology protect printed items, but it enhances their appearance, also. Colors are increased and contrast is emphasized when lamination is performed properly. A dazzling array of applications can benefit from our Los Angeles same day lamination services, including tasks related to marketing, decoration and organization. Here is more about how lamination can be used and the options clients have when they visit us.
Numerous items are ideal for lamination at home and at the office. For example, charts, maps and posters can be laminated for long-term display on the wall or extended storage at businesses. Lamination of charts enables clients to use dry erase markers for temporary notes in meetings and every day business use. By laminating a simple paper sign, clients can improve its durability against moisture and aging. In the home, clients can use laminated posters to decorate an area for parties or other events. Other items that benefit from our same day lamination in Los Angeles include business cards, point-of-sale displays and name tags.
Same Day Lamination Los Angeles
Our Los Angeles same day lamination services offer plenty of options to help clients meet their goals. Items ranging in size from business cards to full-size posters can be laminated. We can either laminate one side or both sides of printed products. After lamination is complete, we can perform a range of other services depending on the desired application. For example, we can bind laminated sheets with wires or plastic coils, or we can collate them to the specifications of clients. We can laminate single items as well as extensive print runs.
Lamination is a fast, affordable way to increase the durability of printed products. Whether display or storage is the end goal of protecting printed items this way, our same day lamination in Los Angeles can provide a versatile solution for a variety of environments. Printed products for domestic settings can benefit from high-quality lamination as much as those intended for business use. Clients can contact our Los Angeles same day print shop to find out more about how lamination can meet their needs.