Same Day Vinyl Lettering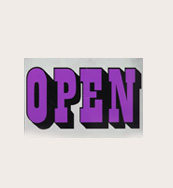 Vinyl lettering is an affordable, long-lasting source of signage that can be used by businesses or consumers in a variety of settings. Designed and cut by computer, vinyl lettering offers absolute uniformity and can be placed on numerous smooth surfaces. As the pigment of this lettering is contained in the vinyl itself, the color lasts longer than old-fashioned hand-painted lettering when exposed to direct sunlight. Here is more about our Los Angeles same day vinyl lettering services, the benefits clients can get and the options available at our print shop.
As an alternative to banners or signs made from metal or wood, vinyl lettering makes promotions possible on virtually any surface. Storefront windows, a popular destination for vinyl lettering, can be used as signs without necessarily obstructing views inward or outward. Vinyl is ideal for situations in which locations or signage plans change, as it securely remains in place, but it can also be removed without causing surface damage. Company logos, team names, slogans, phone numbers and addresses can be displayed this way. For consumers, same day vinyl lettering in Los Angeles presents a way to mark possessions or decorate spaces.
Same Day Vinyl Lettering Los Angeles
Vinyl lettering design can be completed on site by our graphics professionals. Numerous fonts can be selected on the computer for vinyl lettering. Vinyl of many different colors can be used to match promotional goals and company logos, also. The size of vinyl lettering comes in a variety and can be adjusted to cover entire storefront windows, small car doors or yard signs. Our Los Angeles same day vinyl lettering services can print vinyl lettering in large runs to support widespread ad campaigns or in single runs to mark one storefront.
Businesses must have effective signs to announce their presence and what they offer, especially if other competitors are located nearby. With same day vinyl lettering in Los Angeles, signage is adaptable and cost efficient. Our design professionals can create vinyl lettering to the specifications of clients for immediate printing on site. Clients can contact our Los Angeles same day printing office to learn more about our vinyl lettering services and the options we offer.