Same Day Flyer Printing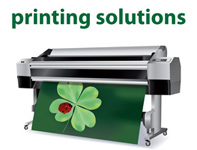 Flyers are one of the fastest and most affordable advertising solutions available to businesses alike. As they are printable in a vast range of sizes with numerous inks and finishes, flyers are quick to catch the eye of prospective customers when properly designed. A combination of quality and efficiency on the part of our print technicians and designers helps clients excel in their target markets. Here is more about the versatility of flyers and the options clients have when they choose our Los Angeles same day flyer printing services.
Clients can add a major boost to their promotional campaign with same day flyer printing in Los Angeles. The low cost of flyers, combined with their other advantages, increases the value of the initial investment. Individuals can distribute flyers fairly quickly, enhancing the return business owners can receive from their labor costs. Not only can different colors of ink be used, but unique paper colors can be chosen to increase the attention of your flyer. Finally, the relatively small size of flyers in comparison to other advertisements can improve the efficiency of design expenses.
Same Day Flyer Printing Los Angeles
Flyers offer plenty of choices in every step of the production process. They can be printed with an extensive range of inks on many different paper colors and stocks. When folded flyers are needed, our service can present multiple folding styles from which to choose. While clients can deliver designs of their own for us to print, our Los Angeles same day flyer printing services can create customized flyers that draw from deep knowledge and experience in design and marketing.
Clients who visit our print shop for same day flyer printing in Los Angeles can count on receiving consistent quality in the quantity they need. Whether thousands or just a few flyers are needed, we can usually complete the service on the same business day. When clients need more flyers, they can visit us for a repeat run, so there is no disruption in their promotional efforts. Clients can contact us online, call us by phone or visit our Los Angeles same day printing center in person to learn more about our flyer printing options.