Same Day Car Wraps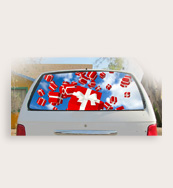 Vehicles offer massive exposure in traffic, essentially acting as mobile billboards visible to drivers and pedestrians nearby. Car wraps let companies and individuals cover their vehicles with graphics, contact information and other elements without making permanent alterations, as painting would require. Our print shop in Los Angeles offers same day car wraps for fast completion of these products before promotional campaigns, car shows and other events.
Why Wrap Vehicles?
Car wraps offer many benefits, with several benefits depending on the application. For companies, our same day car wraps enable large-format, mobile advertising on vehicles that are already owned. In addition to offering incidental exposure in traffic, wrapped vehicles can be driven to events and other strategic locations for targeted promotion. For consumers, wraps offer an option for non-permanent customization of vehicle exteriors with designs that would be impractical using paint. All clients benefit from the protective action that wraps provide to the paint they cover. Whenever necessary, wraps can be removed or replaced without causing damage.
How Wraps Can Be Designed
A virtually unlimited range of designs can be printed on vehicle wraps. Designs can be customized to the vehicle, with text and graphics proportioned and placed to match windows, doors and other objects. The greatest impact is had with designs that account for the shape of the vehicle being wrapped, so the work of experienced wrap designers is invaluable. Existing logos and other trademarked images can easily be incorporated into designs as part of the digital design process.
Durable Results of Printing
Same day car wraps from our print shop are produced on high-quality, durable vinyl for lasting results. Bold, lightfast inks ensure that sun exposure does not fade designs too quickly. Every wrap is produced on cutting-edge, high-resolution digital printing equipment so that it looks good up close as well as from far away.
To turn any vehicle into a bold mobile advertisement, clients can visit our print shop for same day car wraps. Our professional designers and high-quality materials help ensure satisfaction with the results. Clients can contact our Los Angeles print office for more information about this and other printing services.