Same Day Book Printing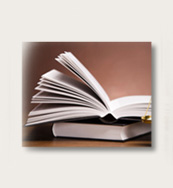 Our Los Angeles same day book printing services provides a fast, affordable publishing option for both businesses and individuals alike. By choosing our print shop for this service, area clients can simplify book production without sacrificing quality. There are an array of options available pertaining to design, materials and binding. Applications are numerous, including dissemination of product information, promotion of services, and the self-publishing of fiction and non-fiction works. Here is more about this service and the choices that clients have when they visit us to have books printed.
Book printing can be used by companies and authors to achieve several goals. When businesses need to publish more information than what a brochure or booklet can contain, a full-sized book made to their specifications may be more ideal. For individuals eager to promote their own writing, same day book printing in Los Angeles makes self-publishing possible and can match the quality that major publishers offer. In fact, major publishing houses routinely use print shops for smaller production runs. Paper books have retained their desirability even as electronic publishing has become common.
Same Day Book Printing Los Angeles
Our Los Angeles same day book printing services ensures that the books clients order address their goals precisely. During the design process, our team works with clients to format their text and add graphics where appropriate. Cover design, created with respect to the intended purpose, is also included. Printing can be performed with different paper stocks and inks to achieve the desired look, also. While hard bindings are offered, books can also be held together with spiral binding. The latter option may be preferable when books are to be used for instruction or reference.
High-quality self-publishing is an option for consumers and companies who visit us for same day book printing in Los Angeles. Our print office can handle everything from design to the production of polished books that will impress business partners and book markets. To get started, clients can send us their manuscripts online or deliver them in person on digital media. After discussing design, materials and goals, we will begin the process outlined here so that our clients can get their books without delay.