Fast Blueprint Printing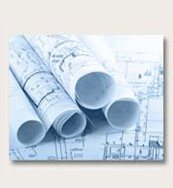 Blueprints are central to modern manufacturing as well as as residential and commercial construction projects. As detailed reproductions of technical drawings created by engineers and architects, blueprints are used at the site of production to ensure that output satisfies the original designs. Whereas old-fashioned blueprints were once produced only on blue paper with white print, modern ones can include a variety of colors and are printed on white paper. Our Los Angeles fast blueprint printing services can provide blueprints in a wide range of sizes on short notice.
Blueprints must be large enough to include all pertinent information and must be legible to users. For this reason, blueprints cannot necessarily be produced by consumers on home computers and printers. Durability is essential for blueprints, and this can necessitate the use of special paper stocks depending on the project outlined by this print product. In some cases, clients may require further preservation of blueprints through lamination. Thanks to our services for fast blueprint printing in Los Angeles, area companies can get the blueprints they need in the appropriate quantity to ensure that work is completed accurately and on time.
Fast Blueprint Printing Los Angeles
Clients who visit our print shop for Los Angeles fast blueprint printing services can have their blueprints formatted exactly as they prefer before production begins. For every client, our technicians can scale blueprint drawings to match the size of print desired. Ink color, paper stock and print run number can all be chosen by clients. Our shop has an array of professional printers to accommodate any blueprint size that clients require. Lamination can be performed on site to increase the durability of blueprints for construction sites and manufacturing environments.
Many print projects are best left to professionals, and blueprints are among those projects. Clients have access to fast blueprint printing in Los Angeles at our print shop, which offers everything from design refinement to large-format printing and additional services to give clients top-quality blueprints every time without delay. Clients can contact our same day printing shop in Los Angeles to learn more about our blueprints and other services.