Fast Book Printing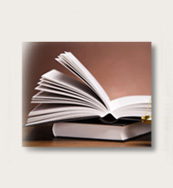 Books can be printed at our print shop using high-quality materials at low cost, providing an alternative to publishing houses. Paper books remain in demand even as e-books have gained traction with readers. While some authors have their works printed by major publishers, many choose to self-publish for a variety of reasons. Our Los Angeles fast book printing services use traditional materials and binding options, ensuring durability and classic appearance. Here is more about this service and the options available to clients who visit our print shop.
Writers who self-publish their works retain total control over book design and materials. Because self-publishing bypasses major publishing houses, it also eliminates the need to change any writing to appease the publishers. With our services for fast book printing in Los Angeles, writers can have as many or as few of their books printed as they prefer. Additional copies, which may become necessary after the first print run, can also be made quickly and on a dynamic basis.
Fast Book Printing Los Angeles
Every step of the book printing process can be tailored to the needs of clients. During the design process, our designers can create cover graphics or format covers using existing photos or artwork. The text to be printed can be formatted using different sizes, fonts, and layouts. A variety of binding options are available, including hard binding and spiral binding. Different paper stocks and types can be used to create the right look. Once clients are ready, production can begin per their specifications. Our Los Angeles fast book printing services can be performed in high or low volume and can include re-printing on demand.
Our fast book printing in Los Angeles makes self-publishing an option without requiring clients to settle with lower quality or smaller print runs. Fiction, non-fiction, and textbooks are just a few of the potential uses for this service. By delivering fast results, our print shop ensures that clients can get started distributing or marketing their new book right away. Clients can contact or visit our printing office in Los Angeles to learn more about our book printing services.