Fast Booklet Printing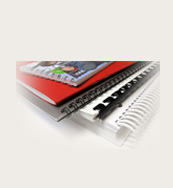 Booklets offer similar advantages to brochures but have space similar to that of a small book. Useful in many business applications, booklets let companies explain products and services to clients as well as instruct employees. Our Los Angeles fast booklet printing services let area clients obtain these valuable print products on a timeline that is convenient for them.
In situations where brochures have too little space for the publishing goal, booklets can be ideal. For example, complex products and services may require significant text to describe accurately to customers. Instructional booklets for business processes can contain far more information than would fit in a brochure. At the same time, these situations may not call for a full-sized book. As its name implies, a booklet is essentially a small book. Businesses and their customers will appreciate these compact creations from our experts in fast booklet printing in Los Angeles.
Fast Booklet Printing Los Angeles
Everything from design to binding can be customized when clients use our Los Angeles fast booklet printing services. During the design process, our in-house staff can incorporate pictures that clients deliver to us or create new graphics that match the included text. Depending on the size and purpose of a booklet, different bindings may be preferable. Booklets that are larger and designed for frequent reference can benefit from spiral binding. For space-saving booklets that can easily be mailed, clients may prefer stapled binding instead.
When clients first visit us for booklets, we can discuss booklet design options. Our graphic designers will work to create a format and graphics that clients find pleasing. Once the design, binding and other options are approved, our experts in fast booklet printing in Los Angeles begin production. The run size can vary from very small to very large to meet the needs of clients.
There is no need for area residents and businesses to wait long for their booklets to be made. With our Los Angeles printing services, clients can have their booklets designed and produced to match their schedules as well as their goals. Clients can visit, email or call our print shop to learn more about our booklet services.