Fast Brochure Printing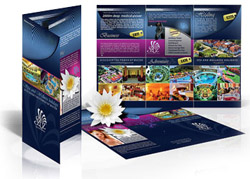 Brochures are among the top options for companies to draw interest in their markets and educate customers about their products and services. In addition to holding plenty of text, brochures can be printed with illustrations and photos as clients prefer. The affordability of brochures ensures that clients can keep as many on hand as they need for their business goals. With our Los Angeles fast brochure printing services, clients can have these print products designed and produced on a short timeline.
Companies can use brochures for many purposes and enjoy lots of options along the way. Thanks to the compact size of brochures, these print products can be ideal for mailing to current and prospective customers. Brochures are also simple to carry in quantity to trade shows for handing out to attendees. Because brochures can hold ample information, they can be used to inform customers about business options on site to save time for everyone involved. Even as online marketing has become more common, brochures remain powerful as tangible products that customers can peruse at will. Fast brochure printing in Los Angeles offers total customization to meet the demands of any business plan.
Fast Brochure Printing Los Angeles
Our Los Angeles fast brochure printing services include planning, design and production with each order. During the planning phase, clients can indicate the format, ink types and paper stocks they prefer. Our on-site design staff can include artwork or photos that clients supply or create totally new illustrations for the job. Finally, once clients approve the finished design, our print technicians produce the brochures in the run size desired.
Companies that want to distribute more information than what a standard print ad offers can have brochures made instead. With our same day printing in Los Angeles, this popular print product is convenient as well as affordable. After an initial printing run, clients can have their brochures re-printed as often as they need. By contacting our print shop online, by phone or in person, area companies can learn more about our fast brochure printing in Los Angeles and the options that come with it.