Fast Business Card Printing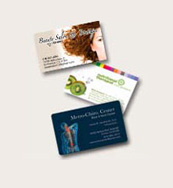 Business cards have been used for centuries by individuals and companies to build relationships with partners and customers. Even as promotion is increasingly done online, business cards remain crucial for professional success. Well-made business cards perform several functions for those who use them, including fostering a competent image and complementing other advertising methods. Here is more about this print product from our Los Angeles fast business card printing services and the options clients enjoy at our print office.
Professionals can count on a number of benefits from business cards involving their size, design potential and general versatility. Because business cards are small, they can be kept in volume on desks as well as in pockets for handing out at places of business, parties, conventions and elsewhere. Contact information is standard on this product from our services for fast business card printing in Los Angeles, but plenty more can also be added to entice customers and even increase value for advertising. In the latter case, businesses may opt to use their cards as small flyers in public areas. Finally, the long tradition behind business cards makes them essential for any professional to be taken seriously.
Fast Business Card Printing Los Angeles
There are countless options for customizing business cards at our print shop. For example, our Los Angeles fast business card printing services can use pre-made designs or create new ones. Different fonts, graphics and formats can be incorporated. During the printing process, our shop can use cards of several sizes and thicknesses. A variety of inks in many colors can be used, and the final product can be given a matte or glossy finish.
Online advertising is essential today, but business cards are no less important for building and maintaining interest among partners and clients. Business cards represent those who use them, so customization is key to success. Our fast business card printing in Los Angeles includes ample options to achieve the exact effects clients envision. To learn more about our business card printing services, clients can visit, call or email our same day printing shop in Los Angeles.