Fast Canvas Printing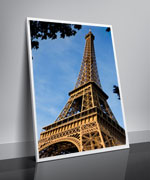 Canvas printing offers an alternative to paper printing that can be ideal for reproduction of photos and artwork. Improvements in durability, aesthetic appeal and display versatility are among the advantages that come with canvas printing. While professional artists and photographers commonly use canvas printing, businesses and consumers can also use this service for commerce and decor. Here is a deeper look at the benefits and options that come with our Los Angeles fast canvas printing services.
Printing on canvas can be preferable to paper printing in several situations. Not only is canvas preferred for durability in long-term display, but it is also ideal for extended storage because it can be rolled and unrolled without becoming damaged. The quality suggested by canvas, long associated with original artwork, makes the material excellent for impressive gifts to friends, family, customers and co-workers. Canvas can also be more practical than paper for display thanks to its reduced weight versus framed images. With prompt results from our services for fast canvas printing in Los Angeles, clients can count on being able to have prints ready on short notice when necessary.
Fast Canvas Printing Los Angeles
Canvas prints are completely customizable at our shop. Virtually any images that clients like can be printed on canvas, including original artwork, reproductions of paintings or drawings, photographs and computer graphics. A variety of sizes can be printed from source images depending on resolution and desired results. During the print process, our technicians can use glossy or matte inks in many colors. The results of our Los Angeles fast canvas printing services can be mounted in a variety of ways.
The popularity of canvas prints is increasing as the durability and visual appeal of the material becomes better known. Through our fast canvas printing in Los Angeles, area companies and consumers can have the images they choose produced quickly and boldly in the size they like. Like many other print products, canvas prints can be created individually or in runs of virtually any size. Clients can contact our printing office in Los Angeles for more information on our canvas printing services.