Fast Letterhead Printing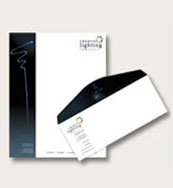 Letterheads are essential for business correspondence with partners and clients. Besides automatically giving contact information to letter recipients, letterheads have important functions involving promotion, authenticity and even legality. Like other print materials, good letterheads should be designed well and produced using high-quality inks. Our Los Angeles fast letterhead printing services include both of these elements.
Companies enjoy several benefits from using our fast letterhead printing in Los Angeles. Every time a company communicates through mail using a letterhead, an impression of authenticity is given. Both clients and partners are bound to appreciate this. Furthermore, this authenticity can be valuable for legal purposes in certain cases. At the same time, letterheads are standard in the modern business world. Recipients of business mail expect to see letterheads that represent the senders well. Like a logo, the letterhead reflects on the company and should establish the right image to recipients. Repeat viewing of the letterhead will foster remembrance, potentially boosting business success over time.
Fast Letterhead Printing Los Angeles
Our Los Angeles fast letterhead printing services feature options at every stage of the production process. Design possibilities are endless and, while clients can deliver their own letterheads for printing by our shop, our designers can also create letterheads entirely. Fonts, text size, logos and other graphics can be included. Clients can also choose the type and thickness of paper to be used for printing. After clients have approved designs, printing can be performed with a variety of ink colors and types, including matte and glossy. Our technicians can print letterheads in runs of all sizes or perform multiple runs with different materials and inks as clients prefer.
Letterheads are crucial business tools that represent the companies that use them. To give the best impression to recipients of their letters, area companies should use our fast letterhead printing in Los Angeles rather than print their own. In having letterheads produced professionally by our print shop, companies can also count on having plenty on hand at all times. Businesses can contact our same day printing office in Los Angeles to learn more about our letterhead services.