Fast Mug Printing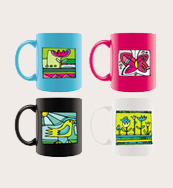 Mug printing gives companies and individuals a unique option for promotion and expression. In homes and offices virtually everywhere, mugs are extremely common. Printing these mugs with logos, artwork and messages and distributing them lets clients build brand exposure and familiarity in their markets. Our Los Angeles fast mug printing services gives clients plenty of ways to customize their mugs, including on-site design and a wide selection of materials. Here is a deeper look at how personalized mugs help clients and what mug printing options clients can get at our print shop.
Companies can use these mugs in numerous ways to improve their business while individuals can utilize mugs for visual expression. At companies, custom mugs can be ordered bearing logos, contact information and trademarked images. These mugs can then be given to customers and partners to ensure remembrance of the brand. Alternatively, companies may choose to sell well-designed mugs to advertise and earn revenue at the same time. Artists, bands and others will appreciate the chance to express and promote themselves using our services for fast mug printing in Los Angeles.
Fast Mug Printing Los Angeles
Customization of mugs begins with the design process, in which clients can deliver virtually any graphics or information to be printed on their mugs. If clients prefer, our Los Angeles fast mug printing services can also develop mug graphics from scratch with guidance from clients. Once clients have approved their mug designs, they can choose from a variety of mug types and colors. Finally, printing can begin with the ink types and colors chosen by clients. The mugs can be printed in large or small numbers and can be reprinted for convenience later.
Customized mugs are an excellent resource for clients interested in promotion or self-expression. With our fast mug printing in Los Angeles, clients can also count on getting their mugs designed and produced as they like without delay. The ability to order runs of virtually any size means that customized mugs can be used for unique gifts or large-scale ad campaigns. To learn more about our custom mug printing options, clients can contact our same day printing shop in Los Angeles.