Fast Postcard Printing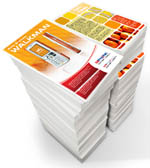 Postcards have long been popular options for consumers sending mail to friends and family, but they are also versatile marketing tools for companies. With custom postcards, companies can better achieve a variety of marketing goals. Our Los Angeles fast postcard printing services let companies get this print product tailored to their own purposes without waiting.
For residential customers, custom postcards can be fun choices for sending messages accompanied by unique pictures. Thank you notes, wedding invitations and other projects can also be completed using postcards. For companies, the products of our fast postcard printing in Los Angeles can accomplish more for less. When companies want to increase exposure for new products and services, they can mail out postcards bearing images related to these offers. Alternatively, companies can have postcards made showing their logos or other trademarks. While postcards can be mailed to current or prospective customers, they can also be used as miniature flyers and handed out on the street, at storefronts and at industry events.
Fast Postcard Printing Los Angeles
Clients can have postcards designed from the ground up when they place orders at our print shop. Illustrations, provided by clients or created on site, can be printed on the front of the postcards. A variety of formatting options are available for the other side. Whereas postcards destined for mailing can be designed accordingly, postcards made to be handed out can be printed with any information requested. Once the design is complete, different paper stocks and inks can be used in the printing process to address goals and budgets. Finally, our Los Angeles fast postcard printing services can make the post cards in runs that are small or very large.
Postcards can be used in countless applications by businesses and individuals. Thanks to their small size, postcards can also be stored in volume for easy transport and use. Clients who visit our shop for fast postcard printing in Los Angeles can have their postcards designed and made to their specifications without waiting for results. By visiting, calling or emailing our print shop, area residents and companies can learn more about our postcard printing and other options for same day printing in Los Angeles.