Fast Sign Printing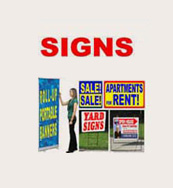 Businesses that need signs today have an array of advertising options thanks to modern printing methods and materials. Whereas old-fashioned signs were often made of wood or metal, newer signs are frequently printed on vinyl. Modern technology allows companies to have signs produced in the exact size and design they prefer for display indoors or outdoors. The products offered by our Los Angeles fast sign printing services are ideal for numerous settings, including storefronts, real estate sales, and point-of-purchase displays. Here is more about how sign printing benefits companies and what options it offers.
Benefits of our fast sign printing in Los Angeles involve durability, versatility, appearance, and affordability. Thanks to the availability of multiple sign materials, clients can have signs printed that are appropriate for display indoors, as well as outdoors in the elements. Professional designs created on computers can be transferred directly to the printing process, ensuring that clients can maximize promotional impact among their markets. Affordability accompanies these signs thanks to automation in the printing process and the easy duplication of projects as necessary.
Fast Sign Printing Los Angeles
The potential for customization is considerable when signs are printed. From the first steps of design to the last stages of production, clients can have their signs made exactly as they envision. Our Los Angeles fast sign printing services offer on-site design, which can utilize pre-made graphics or include new ones made by our professional designers. A variety of materials can be used, including vinyl and paper. Signs can be printed in many different sizes ranging from small to very large to suit the intended display setting.
Signs are essential for building and maintaining market awareness of businesses. In light of the fact that a sign always reflects on the company using it, companies should prioritize quality in this product. Our services for fast sign printing in Los Angeles offer high quality without compromising production time. With the right experience and equipment, our print shop can give clients the results they need for any sign project. Clients can contact our same day printing office in Los Angeles to learn more about our sign printing and other services.