Fast Sticker Printing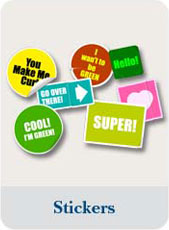 Stickers are a powerfully versatile option for business promotion, personal expression and other goals. Available in a variety of materials, stickers can be used virtually anywhere as long as a smooth, dry surface is available for adhesion. Compared to stickers printed at home, professionally printed stickers offer more options in terms of design, materials and finish. Our Los Angeles fast sticker printing services let area companies and consumers get custom stickers made to their specifications on a timeline that meets their needs.
Clients will find that our fast sticker printing in Los Angeles can benefit their business goals as well as their personal projects. In business, companies can use custom stickers to advertise their business indoors or outdoors. These stickers can also be distributed to customers and partners for their help in promotion. Naturally, stickers are friendlier to budgets compared to billboards and other larger ad media. Inside of a business, custom stickers can be placed on the property of the company to declare ownership or inform users about correct operation of machinery. Individuals may find that stickers are ideal for expressing themselves among a larger audience.
Fast Sticker Printing Los Angeles
There is no shortage of options for personalizing stickers ordered at our print shop. During the design phase, clients can designate existing text or graphics to be printed or have our on-site staff design new stickers. Our Los Angeles fast sticker printing services can be performed using a variety of paper stocks as well as vinyl, which offers superior tolerance of the elements. Virtually any size of stickers can be chosen to satisfy all requirements. As a final touch, clients can have their stickers given a matte or glossy finish.
Stickers give clients an affordable yet adaptable option for promoting their company or expressing themselves. Thanks to total personalization, clients of our fast sticker printing in Los Angeles are never limited to homemade or pre-made stickers. Clients can visit, call or email our print shop to learn more about our sticker printing services and other options for same day printing in Los Angeles.