Fast Vinyl Lettering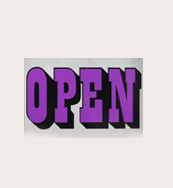 Vinyl lettering gives businesses a fast yet long-term approach to storefront advertising. Designed on a computer and printed professionally, this lettering lets business owners display the messages and graphics they want in a way that exemplifies quality. These letters adhere directly to smooth surfaces and are easy to remove as your business needs change. With our Los Angeles fast vinyl lettering services, area businesses can have their vinyl lettering created with little delay so they can start taking advantage of this popular promotional medium.
Business owners will find that vinyl lettering benefits their promotional efforts in several ways. For example, the low cost of vinyl lettering lets businesses advertise more with money left over for other endeavors. Vinyl lettering also offers efficiency by letting business owners turn virtually any smooth surface into a sign. When vinyl lettering is used on storefront windows, employees can still see outwards so that they can prepare to serve approaching customers. For new companies, our fast vinyl lettering in Los Angeles enables fast development of a professional-looking storefront so that business grows quickly.
Fast Vinyl Lettering Los Angeles
Customization is possible with every order for our Los Angeles fast vinyl lettering services, which are provided on an individual basis. During the design process, clients can indicate the size and color of their desired design as well as the text or graphics they want. Clients can also choose to have their letters made for display inside or outside of windows. As production proceeds, the vinyl lettering can be produced on our large-format printers in the size chosen by clients.
Our fast vinyl lettering in Los Angeles makes this versatile advertising option available on short notice. Vinyl lettering can be an excellent choice for permanent store signs, as well as temporary promotional campaigns. With personalized design and production, our print shop ensures that every vinyl lettering order provides the results clients need for success in their market. Clients can call, visit, or email our print shop to learn more about our vinyl lettering and other services for same day printing in Los Angeles.