Fast Wedding Invitation Printing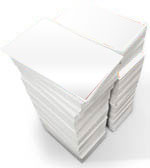 Invitations for any occasion should be made to excite invitees, and wedding invitations are no exception. It can be difficult or impossible to emulate professionally printed invitations at home. Not only do our Los Angeles fast wedding invitation printing services include professional design, but they also offer a host of options in terms of materials and are printed using high-definition printers. Invitees will be flattered to receive invitations created by our print shop. Here is more about this service and its advantages and options.
Amazing quality is demanded in invitations created for weddings. These once-in-a-lifetime events call for incredible celebrations from start to finish, so the invitations sent to guests should always match the overall quality sought. Customized to perfection with the right designs, inks, and paper stocks, these cards are sure to impress recipients. Thanks to the speed of our fast wedding invitation printing in Los Angeles, clients can also count on having their invitations ready as soon as they need them.
Fast Wedding Invitation Printing Los Angeles
Options are provided throughout our wedding invitation process, including during design and production phases. Before design starts, clients can speak with our designers to discuss the colors, fonts, and formats they prefer. Of course, our designers can also create completely new cards from scratch. Matte and glossy inks and finishes and paper in a variety of styles and thicknesses can be used for printing the cards. During the production steps of our Los Angeles fast wedding invitation printing services, our technicians will make the invitations in the number that client's designate. If more invitations become necessary, our technicians can make repeat print runs.
Quality is paramount in every aspect of a wedding, and the same is true with wedding invitations. Our fast wedding invitation printing in Los Angeles ensures that quality arrives without delay. In addition to invitations, our print shop offers a host of other print products for weddings and can create place cards, name tags, and other items that all match each other. At our same day printing shop in Los Angeles, clients can learn more about our wedding invitation services.