Fast Window Perf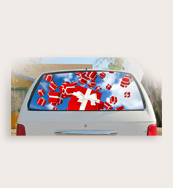 Window perf, a perforated film that is printed and displayed on glass, has been used for decades by businesses that recognize its many benefits. Thanks to its size and versatility, window perf can be a powerful addition to advertising campaigns. The ability to see outward through window perf can make this material useful on vehicles, as well as storefront windows. Today, the integration of digital design and large-format printers allows for more window perf options than ever before. Here is more about the advantages of our Los Angeles fast window perf services and options.
Like billboards and banners, window perf lets businesses display graphics and information in large format to customers near and far. Unlike solid sheets of vinyl, which blocks light and visibility placed over windows, window perf allows some light to pass inward and ensures that employees indoors can still see customers approaching. Because it is removable, businesses do not have to commit to long-term use of a window perf intended to promote a current promotion or other event. Finally, the holes present in our fast window perf in Los Angeles make fast installation possible without worries of bubbling.
Fast Window Perf Los Angeles
Window perf can be made in a wide range of sizes using numerous colors, and adaptability is reflected in the design process, as well as in production. Our shop can produce very large window perfs for main storefront windows, as well as small window perfs useful for mounting anywhere, including on vehicles windows. Thanks to bold, lightproof inks, our window perfs also will last even under exposure to the elements. Before our Los Angeles fast window perf services start production, our in-house designers create the planned design with ongoing input from our clients.
Business can use our services for fast window perf in Los Angeles to create or supplement effective advertising campaigns. Durable yet removable and offering a variety of extra benefits and options, our window perf is produced quickly so that your promotion can begin. Clients can contact our print shop to learn more about window perf and our other options for printing in Los Angeles.