Next Day Business Card Printing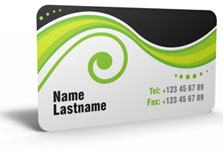 Business cards are quintessential promotional items for people in a countless number of professions. As miniature advertisements that foster connections between professionals, business cards should be properly designed and printed. Here is a look at our Los Angeles next day business card printing services and how they benefit area clients.
Business cards can be taken anywhere by professionals keen on advancing their careers. While it is not uncommon for professionals to keep their business cards in holders atop their desks, professionals virtually always take their business cards with them wherever they go. Whether on business or personal outings, professionals with business cards are ready to build relationships that matter. Professionals also sometimes advertise their services by leaving their business cards in key locations. A well-designed business card can help professionals create a positive impression for greater success with potential partners and customers. Finally, the products of our next day business card printing in Los Angeles help ensure that recipients will have no difficulty keeping track of the latest connections they have made.
Next Day Business Card Printing Los Angeles
Like larger advertisements, business cards benefit from well-formulated design and crisp printing on high-quality materials. All of these factors are vital to ensuring that business cards best reflect the professionals who carry them. With our Los Angeles next day business card printing services, area professionals can have their business cards tailored precisely to their needs. Professionals can bring their own ideas and artwork to our print shop for incorporation into their new business cards, but our graphic designers can also make completely new designs. After clients approve their designs, printing can commence using the materials and methods clients prefer. Some options offered through our next day business card printing in Los Angeles include different card sizes, card stocks, ink types, and finishes.
Connections between professionals and their partners and clients are supported by business cards. While the utility of contact information is one reason why business cards are important, high-quality design and printing are essential for the best results. Clients can contact our printing office in Los Angeles to learn more about our business card services and options.