Next Day Catalog Printing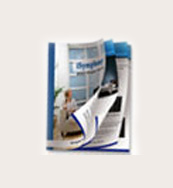 Printed catalogs have kept their place in modern commerce despite online retailing. Besides giving consumers a tangible resource for researching and ordering products and services, printed catalogs can complement online marketing campaigns. Our Los Angeles next day catalog printing services offer many benefits and options for companies that recognize the value of this print product.
Businesses of all sizes can benefit from our services for next day catalog printing in Los Angeles. Because catalogs are inherently malleable, they let companies display marketing information and provide extra purchasing options to their target market. While some customers may place orders directly from the catalog, others may plan later purchases through this resource. Having information ready regarding products and services that interest them, customers may also be less likely to shop around when they are preparing to purchase. Finally, research has shown that catalogs encourage consumers to visit websites.
Next Day Catalog Printing Los Angeles
Catalogs do not necessarily have to be simple collections of products and prices. In fact, companies can also include educational or entertaining content in their catalogs to build and maintain consumer interest. With glossy, high-quality paper and photos or illustrations that appeal to the eye, catalogs can also contribute to branding efforts. The products of our Los Angeles next day catalog printing services can vary in size from just a few pages to hundreds to meet the needs of a company and what it sells.
Design and printing is included in our services for next day catalog printing in Los Angeles, simplifying the catalog creation process for area businesses. Our designers are experienced at using graphics and formatting catalogs for practicality as well as aesthetic purposes. Images, logos and other trademarks can be provided by clients for inclusion in their catalogs. During the print process, our technicians can produce the catalogs using the paper stock, inks, and finishes that clients choose in the run size they specify.
Paper catalogs continue to be an important part of business marketing. For every catalog project, high-quality design and printing is essential to success. Businesses can contact our fast printing shop in Los Angeles to learn more about our catalog services.