Next Day Lamination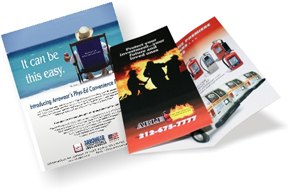 Lamination, the process of sealing paper between clear plastic, is useful for protecting and beautifying documents. The process is fast and works well for a long list of print products, including blueprints, artwork, and instruction sheets. Clients can use our Los Angeles next day lamination services in a variety of ways for their business and personal objectives.
Clients will find many uses for our next day lamination in Los Angeles. For example, documents that clients plan to store long term can be laminated to ensure that they do not deteriorate due to moisture. When documents are set to be handled by many people, such as at large meetings or trade shows, clients can laminate those documents so that they last for the duration of the event. Similarly, blueprints may be laminated so that they withstand conditions on construction sites. Because lamination gives a glossy appearance and can make colors stand out, it is ideal for protecting artwork and photographs for display. This beautifying effect can make lamination a worthwhile step before selling art reproductions.
Next Day Lamination Los Angeles
Our Los Angeles next day lamination services offer several options so that laminated documents meet the demands of many applications. When clients prefer their laminated documents to have no clear plastic margins, our technicians can laminate their documents only to the edges. However, our print shop also offers larger margins for a specific look and extra durability when necessary. With our professional equipment, lamination can be performed on documents ranging from small to surprisingly large. Clients have access to a variety of post-lamination services if they prefer, including mounting for artwork and posters. Extensive lamination projects can be performed with our next day lamination in Los Angeles for larger collections of documents or duplicate print items.
Many items can benefit from being laminated, and both businesses and consumers may find this service practical as well as aesthetically pleasing. Plentiful options ensure that clients can have their items laminated as they envision. By contacting our fast printing shop in Los Angeles, clients can find out more about our lamination services.