Next Day Letterhead Printing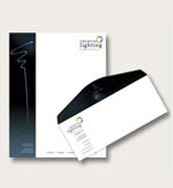 Communication is a foundation of successful business, and conventional mail has remained important even as email has become ubiquitous. While personal letters may be created without attention paid to graphical elements, professional letters should include letterheads for a variety of reasons. A high-quality letterhead can not only save time but also support branding efforts and legal interests. Here is more about the value of our Los Angeles next day letterhead printing services and how our print shop serves companies that need this service.
Like company vehicles, company letters sent to clients and partners should represent the company properly. Good materials are crucial, but the presence of the company logo, trademarks, and contact information can help ensure that letter recipients will keep the company in mind. Furthermore, recipients know immediately that their mail is official when it is imprinted with a letterhead. This can foster trust in the brand for the sake of sales and strong business relationships. Finally, our next day letterhead printing in Los Angeles is ideal for companies that want to maintain solid legal ground, as letterheads clearly announce the sender of a mailed message.
Next Day Letterhead Printing Los Angeles
Customization is central to a great letterhead, and our Los Angeles next day letterhead printing services include plenty of choices. Design comes before printing, and our graphic designers can work from scratch or create letterheads using the graphics that clients bring to us. A wide variety of paper types and stocks can be used. Although we can print letterheads in grayscale, we offer a full range of color options and finishes using different inks. Print runs can be performed on virtually any scale to suit businesses large and small.
Every business should use letterheads for official communications. With our next day letterhead printing in Los Angeles, there is practically no limit to the style companies can include with all of their mailed communications. Graphic design and printing are both performed on site for results that are impressive, as well as fast. Clients can contact our print shop to learn more about our letterhead services and other options for same day printing in Los Angeles.