Next Day Mug Printing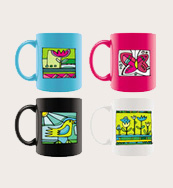 Among custom-printed items, mugs stand out as a functional product that recipients can use again and again. Mugs can be emblazoned with logos, custom artwork, or other graphics and can offer plenty of space for information our clients may want to include. While businesses commonly order custom mugs, consumers can also find a variety of uses for our Los Angeles next day mug printing services. These mugs have numerous applications and can be customized in many ways to support objectives.
Our next day mug printing in Los Angeles delivers plenty of benefits for companies, which can use custom mugs for branding, promotion, and company identity purposes. By giving logo-bearing mugs to partners and clients at business events, companies can get and maintain interest for the long term. Gifting these mugs to employees can promote company pride and create a uniform look in the workplace. Thanks to excellent durability, these mugs can continue offering their benefits for years after being printed.
Next Day Mug Printing Los Angeles
Consumers can have custom mugs printed with photographs, artwork, and special messages for gifts or personal enjoyment. Special events, such as birthdays and graduations, can be ideal occasions to take advantage of our Los Angeles next day mug printing services. Kids can have their own drawings or paintings printed on mugs for a special gift that parents will treasure.
A large selection of options is essential for customization, and our next day mug printing in Los Angeles includes plenty of choices. Clients can send their images digitally or deliver them to our office for printing on their mugs. If custom graphics are preferred, our on-site design team can create beautiful mugs from scratch. Printing can be done on mugs of different types and colors using a broad palette of inks and finishes.
Mugs printed at our shop are popular as gifts, promotional items, and commercial products. Like many of our other print items, these mugs offer practically unlimited opportunities for customization. Clients can contact our fast printing office in Los Angeles to learn more about our mug printing services.