Next Day Sticker Printing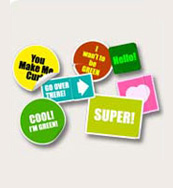 Stickers let clients display advertisements, information, or messages on virtually any dry surface. With the ability to have custom stickers made, clients who visit our Los Angeles next day sticker printing services gain major versatility in business and elsewhere. Numerous options come with this service to ensure that the desired result is achieved.
The key benefits of customized stickers involve their ability to be printed with almost any image and adhered to almost any surface. Logos, trademarked images, contact information, and prices are just a few options that businesses might have printed on their stickers. Consumers may prefer to have their stickers printed with artwork, personal messages, or other content. After clients use our services for next day sticker printing in Los Angeles, they can display their new stickers themselves or disperse their stickers to others who can help increase exposure.
Next Day Sticker Printing Los Angeles
Stickers are most commonly adhered to smooth vertical surfaces. For example, windows, walls, and vehicles often make ideal sites for stickers. Many stickers are printed on vinyl, allowing them to stay durable even with extended exposure to rain and sunlight. Because of their small size, stickers can be ideal for carrying in large volume to areas where promotion is planned. Festivals and parties often provide opportunities for promotion with eye-catching stickers from our Los Angeles next day sticker printing services.
Before printing starts, the design process is offered on site by our graphic designers. Any graphics that clients prefer can be provided digitally or in person for inclusion in their sticker designs. However, sticker designs can also be made brand new. Clients can select a variety of materials, sizes, inks, and finishes for their stickers. Finally, our services for next day sticker printing in Los Angeles are performed in the volume that clients order.
Stickers can be used to fill in the cracks in advertising campaigns of all sizes, but they also make powerful promotional tools when used alone. An extensive selection of options and materials make this product adaptable to any project. To learn more about our sticker services, clients can contact our fast printing shop in Los Angeles online, by phone or in person.