Next Day T-Shirt Printing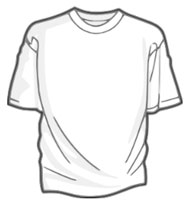 T-shirts are often worn for expressive purposes, as nearly anything can be printed on them. With custom t-shirts, consumers and companies can have display their own designs and messages to onlookers. Our Los Angeles next day t-shirt printing services give clients plenty of options for getting the most out of these items.
Consumers and companies use our next day t-shirt printing in Los Angeles for many purposes. Businesses can view these t-shirts as walking advertisements that they can sell or give away to partners and clients. Contact information, product images, logos and more can be printed on t-shirts. For consumers, customized t-shirts offer an opportunity for showing off artwork, photographs, and information. Compared to iron-on t-shirt prints, our customized t-shirts look better from the start and last much longer.
Next Day T-Shirt Printing Los Angeles
There is practically no limit to what clients can do with t-shirts they have customized. In business, custom t-shirts complement advertising campaigns effectively or can be used as standalone promotional tools. At trade shows, well-designed custom t-shirts are likely to be welcome giveaway items to attendees. Consumers can use customized t-shirts as gifts to friends and family members for birthdays and holidays. By using unique designs with our Los Angeles next day t-shirt printing services, creative individuals can make eye-catching fashion statements.
The t-shirt customization process starts with the design phase, during which our graphics professionals work with clients to create designs that meet their needs precisely. While pre-made designs can be used, our designers can make new designs, as well. The print process starts only after clients have approved their design. Our services for next day t-shirt printing in Los Angeles offer a variety of t-shirts in several colors and sizes, ensuring that the final product suits the intended use and offers the desired look.
Among print items, custom t-shirts stand out for their versatility. Thanks to their durability, our t-shirts also represent an excellent value for companies and consumers. Clients can contact our fast printing office in Los Angeles to discuss the t-shirt customization projects they have in mind.