Next Day Vinyl Lettering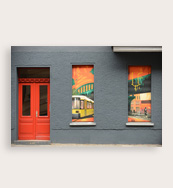 Vinyl lettering is a leading choice for promotion and decoration in business and residential settings. Made using vinyl, a material valued for its durability and color options, this lettering can be used to create a professional-looking sign on virtually any smooth surface. The ability to remove vinyl lettering easily lets clients display and remove signs as desired. Here is a thorough look at how our Los Angeles next day vinyl lettering services help clients.
A major draw of our next day vinyl lettering in Los Angeles is the precision it offers. Designed on computer and cut by laser, this lettering reflects the professionalism of those who display it. After it is placed on a surface, vinyl lettering can last for five to ten years if maintained properly. No special tools are required for removal.
Next Day Vinyl Lettering Los Angeles
Clients can use vinyl lettering to put a message on practically anything without altering its surface permanently. Storefronts, including windows and walls, can be turned into highly visible billboards almost instantly this way. Contact information is simple to put on company vehicles using vinyl lettering, which can be updated as necessary or removed before sale. Both companies and individuals can use our Los Angeles next day vinyl lettering services for decorative purposes at holidays and other events.
Orders for our next day vinyl lettering in Los Angeles are customized from the start at our print shop. Designs can be made unique by our graphics team, but company logos and other pre-made designs can also be turned into vinyl lettering. A long list of fonts and lettering sizes is available, and shadows and other effects can be used for a special touch. UV finishes can be applied for long-term display in direct sunlight.
Whether for a new business opening or an update of an existing business, our vinyl lettering services offer an almost instant solution to advertising needs. Duplicate vinyl lettering is available for large-scale and multi-location projects. To learn more about this service and its options, clients can contact our fast printing shop in Los Angeles.