Next Day Window Perf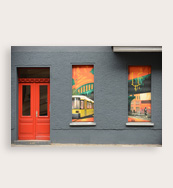 In commercial areas today, it is not unusual to see window perf. This newer advertising material contains tiny, evenly spaced holes so that businesses and individuals can still see outwards. Besides expanding promotional space, window perf has advantages related to mounting, energy costs and removal. For clients interested in our Los Angeles next day window perf services, the following looks at the benefits of this service over alternatives as well as the applications and options it offers.
Although businesses can also put opaque posters or banners in storefront windows, those options block visibility. In contrast, window perf continues to let those behind the window see customers, friends and others preparing to enter. Application is easy thanks to the holes, which prevent air from being trapped and prevent bubbling as a result. Our next day window perf in Los Angeles can also be a more economical and professional-looking alternative to window paint. Finally, the shade that window perf provides can reduce air conditioning costs.
Next Day Window Perf
Window perf can be used on virtually any glass surface, including windows on buildings and vehicles. When clients wrap a vehicle, they can use window perf over the glass to take advantage of every bit of space. Window perf can also be used to hide the interiors of buildings under renovation. Besides its value in advertising, our Los Angeles next day window perf services can be handy for homeowners who want to decorate in a unique way.
Every order placed for our next day window perf in Los Angeles can have this material printed with pre-existing graphics or new ones made by our in-house designers. A variety of inks are available in countless colors, and UV-protective finishes can be used to maximize image durability in the sun.
Our print shop offers window perf in an array of sizes to meet the needs of virtually any project. With our fast service, clients can be applying their new window perf the day after ordering in most cases. Clients can contact our print shop to learn more about our window perf and other options for fast printing in Los Angeles.