Overnight Banner Printing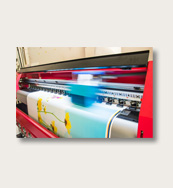 If you want to reach lots of people with your message, banners are a great way to get the job done effectively and affordably. You can hang banners virtually anywhere, including indoor and outdoor settings, and a variety of materials can be used for added durability and versatility. Although most clients ordering banners use this product for commercial projects, banners can also work in other scenarios. Below is more about our overnight banner printing services and options.
Here Is Why Banners Are in Demand
Banners are strongly preferred for their size and movability. If you want to have your message visible from a significant distance, banners are the perfect option for making it happen. Unlike permanently installed signs, banners can be raised and lowered as needs come and go. In contrast to billboards, banners are faster to make and far more affordable. Store owners may find value in our overnight banner printing for announcing openings and sales events. Among consumers, banners may be found useful for announcing and celebrating special events, such as birthday parties, homecomings, and more.
A Look at Customization Options
Like other print services at our Los Angeles shop, our overnight banner printing can be customized in countless ways. Our designers can detail all of the ways in which banners can be personalized for projects. Clients can deliver the text, as well as other design elements to be used for their banners, but our designers can also handle part or all of the design process as clients prefer. Different materials can be used for banners, including paper, vinyl, and canvas. Inks and finishes can be selected to achieve just the right touch.
If you want to display your message to more of your target market and do so in a budget-friendly way, our overnight banner printing is the right solution for you. Our banners can be made fast and to your specifications with every order so you are confident with the results. By contacting our print shop, located in Los Angeles, you can learn more about our banners and many other next day printing services.