Overnight Book Printing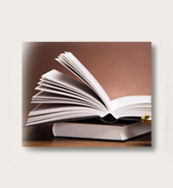 Having a book published is simple with our overnight book printing service. Whether you want to get your personal writings published or promote your business through this medium, our printing office can have your book ready for the market quickly. Options abound for formatting and cover design, ensuring that your book embodies the goals your project entails. Below, you can learn more about how this service works, the advantages it offers, and the applications you may have for it.
Professional Quality Without Major Publishers
Print quality helps determine how well a book is received by its target readers, but having books approved and produced by major publishers can be time consuming and impractical. Fortunately, publishing houses are no longer the sole producers of market-ready books. The design and materials used in the books we make match the value that consumers expect today.
Who Should Use This Service?
Many clients will find reason to choose our shop for overnight book printing. Authors of both fiction and nonfiction can get books made for sale online and in book stores. Photographers and artists, who require superior image quality in printed media, can also count on our Los Angeles print shop to reproduce their artwork for discerning eyes. Finally, companies whose products, services, or informational materials are voluminous can get books for their customers, partners, and employees.
How Books Are Printed at Our Office
Our design staff and print technicians are well versed in producing books that meet the needs of our clients. At the start of overnight book printing, our designers can format text for readability and eye appeal. Illustrations can be provided by clients or created by our design staff for pages and covers. After printing is complete, the pages can be bound with hard binding, spiral binding, or other options.
After compiling the material for a book, you can visit our Los Angeles print office for overnight book printing and get great results quickly. The number of copies needed can be produced in one run or as demand dictates. By contacting our print shop, you can find out more about our book printing and other rush printing services.