Overnight Booklet Printing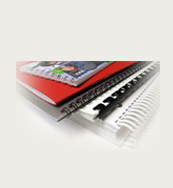 When you need to inform customers but do not need to make an entire book, a booklet may be the print product for you. Booklets are larger than brochures, but their low cost and wide range of printing options still allow for easy integration into promotional campaigns. Adding to the utility of our overnight booklet printing services are multiple binding options and print runs of all sizes. The following is a deeper look at our booklets, how you can use them and the ways you can have them tailored to your project in Los Angeles.
Using Booklets for Marketing and Other Purposes
In business, you can have booklets made for your customers, partners and employees based on the application. Particularly when goods and services benefit from being accompanied by in-depth information to draw interest, you may find that our overnight booklet printing is a powerful addition to your marketing plan. The same is true in many business-to-business transactions. If your company relies on complex processes in the workplace, you can have booklets printed bearing instructions for your employees. Similarly, company handbooks can be printed in booklets when many policies have been established.
Printing Booklets for Your Needs
Our print designers and technicians are wholly focused on performing overnight booklet printing that satisfies your purposes. Text for your booklet can be delivered digitally for your convenience, and our designers can format the booklet as instructed or make it match existing business literature used by your company. Graphics, including photos and artwork, can be included in your booklets alongside text. A host of paper stocks, inks and finishes are also available for both covers and interior pages, and you can choose from multiple binding options, including stapled and ringed types.
Fast service is an important feature of our overnight booklet printing. When you place an order for booklets, you can count on having the results in your hands quickly every time. Related print products, including brochures and books, are also available for different applications. You can contact our Los Angeles print shop to learn more about our booklets and other next day printing services valuable for various business applications.