Overnight Brochure Printing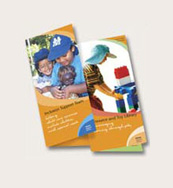 Brochures are a mainstay of business-to-consumer and business-to-business marketing. These print products hold ample information in a compact form, including photos and other graphics for eye appeal and better ability to inform customers. Considering all of their benefits, brochures may surprise some clients with their superb affordability. A deeper look at our overnight brochure printing will help you decide whether this marketing investment is desirable for you or your company.
Marketing Performance of Brochures
In terms of their portability, versatility, and price, brochures easily stand out among business print products. Companies can order brochures by the dozen or by the thousands based on their needs, and the results can be mailed to separate locations or distributed by hand. Our overnight brochure printing is ideal for promotions where informing Los Angeles customers is key. Get out all the information you need to quickly and affordably.
Ideas for Business Brochures
Options are abound for companies adding brochures to their business plans. Whether goods or services are being promoted, brochures offer a lot of space made compact. Many images can be added, along with price lists, contact information and more. Brochures can even be made into carry-out or delivery menus. If companies want to connect their brochures to sales events, they can add coupons, calendars, and more.
Possibilities for Brochure Printing
Like our other print products, brochures are customized from start to finish according to your needs. Clients can indicate exactly what content they want in their brochures along with the format, graphics, and folding style. Different inks, finishes, and paper stocks are available so that the results of our overnight brochure printing meet and exceed requirements.
The products of our overnight brochure printing services can be handed out at events, dispersed at storefronts, or mailed directly to customers. Maps, contact information, and more can be added to brochures so that recipients can easily contact the company for more information or to place orders. Clients in the Los Angeles area can contact our print shop to get more information about our brochures and other rush printing services.