Overnight Business Card Printing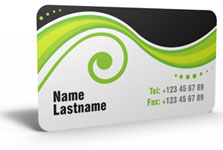 No matter how much business networking happens online, many of the strongest business connections continue to be made in person, and business cards are often involved. Business cards let professionals market themselves and build partnerships quickly wherever they are. Just like any other marketing materials, business cards benefit from being designed and produced for high quality. Our print shop in Los Angeles offers impressive business cards on a fast basis with every order.
Conventional Business Card Usage
Professionals frequently exchange business cards upon meeting, but this does not always occur in a strict business setting. Parties and other events also make valuable opportunities for networking, and having business cards on hand can help ensure these chance meetings are taken advantage of. Afterwards, both parties can hold onto their business cards for reference as needs arise later. Clients who choose our overnight business card printing offer a more positive impression than they would otherwise.
More Applications for Business Cards
The products of our overnight business card printing can help build business in ways other than through personal exchanges. For instance, the small size and information that business cards present make them ideal as sort of miniature flyers. Clients can leave their business cards in strategic locations, encouraging possible customers and partners to find the connection they need. Business cards can also simply be stacked at storefronts so that others can take them as they please.
Business Card Customization and Production
Every professional should carry business cards that convey what they have to offer. This means that customization is essential, and our Los Angeles print office delivers strongly here. Clients can give as much input as they need to ensure that their card meet their needs. However, clients can also request that our seasoned designers create completely new cards custom for them. Our overnight business card printing can be performed using different paper stocks and a host of unique inks and finishes.
Whether at the start or in the prime of their career, professionals should have business cards that represent them well. Our overnight business card printing ensures this, and clients can get as many as they need for ongoing networking results. Clients can contact our print shop to learn more about our rush printing services, including business cards and other options.