Overnight Flyer Printing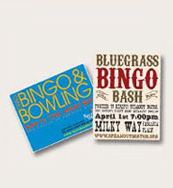 Flyers are quintessential low-cost marketing materials for companies of all kinds. Even with their small size, flyers can fit plenty of graphics and text. Design options are numerous, allowing placement of custom logos and even photos to interest potential customers. Our overnight flyer printing is a fantastic resource for short-notice promotion of sales and other events. Here is more about our flyer services and the ways they are a boon to business.
Reasons to Get Flyers
Marketing can sometimes require a big budget, but flyers are very affordable and can work for businesses large and small. With this low cost, flyers can be printed in massive volume and distributed widely. Well-designed flyers can quickly inform potential customers about new or ongoing events. Coupons can also be added, further encouraging customers to make a purchase.
Ways to Get Results With Flyers
Some marketing materials only work in one way in one setting, but flyers can be used in many ways and places. For example, clients can put flyers on store counters just as easily as bulletin boards and store windows. Flyers can also be placed on windshields or doors where permitted. For a more personal approach, clients can hand out flyers to people individually. Finally, some clients order our overnight flyer printing to use in direct mail campaigns.
Flyer Options for Maximum Value
Flyers, like other marketing media, have the strongest impact when designed and printed as part of a targeted approach. At our Los Angeles location, we both design and print, making this type of goal easy for you. Clients can contact our Los Angeles print shop to discuss exactly how their overnight flyer printing order should look and what it should contain. The printing process will not start until they are satisfied. Different inks, finishes and types of paper can be selected for different effects.
Virtually any business can find promotional value in our overnight flyer printing, an affordable option that can be used for marketing in almost any venue. Our wide variety of options offers our Los Angeles clients all of the possibilities flyers provide. To learn more about our flyers and other fast printing services, clients can contact our print office.