Overnight Letterhead Printing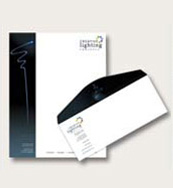 Letterheads have been a popular addition to business and personal correspondence for many years. Not only can letterheads offer a decorative touch to letters, but they also can provide sender information and add to branding campaigns. With modern digital design and printing, letterheads can be made to include pre-created trademarked images, logos, and more. Here is more about what clients get when they visit our print shop in Los Angeles for overnight letterhead printing.
Overview of Letterhead Benefits
Both letter senders and letter recipients can benefit from letterheads. Each time a company or individual sends a letter with an official heading, they know that the recipient will recognize its authenticity. All contact information can be included in the letterhead, making responding simple for the recipient. Extra designs can be added, including ones for special occasions, making letters more attractive and suitable. Finally, clients who use our overnight letterhead printing can keep themselves in the minds of letter recipients, who may be more likely to place orders or reply as a result.
Ways to Take Advantage of Letterheads
Letterheads can come in handy in many ways depending on the client. In business settings, letterheads can act as promotional materials and even play a part in direct mail campaigns. Individuals can get their own letterheads for use as daily stationery or order ones for holidays.
Options for Personalizing Letterheads
Letterheads are used is to mark letters as having been sent by the company or individual sending them, so customization is of paramount importance. With this in mind, our overnight letterhead printing includes in-house design guided or approved by clients. Desired graphics and other elements, such as contact information, can be sent to be included. Printing can be done on many types of paper in a variety of ink colors.
Clients can have their letterheads made to fit their application, whether it is for business or personal purposes. For more letterheads, clients can easily order repeat runs of our overnight letterhead printing. To learn more about our letterhead options and other quick printing services, clients in Los Angeles can contact our print shop.