Overnight Puzzle Printing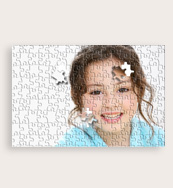 Putting together a jigsaw puzzle is a great way to pass time, especially when the completed image pleases you. Why not have a puzzle made with the image of your choosing? Not only can this make an exciting project for consumers, but it also is a worthwhile promotional tool for companies of all kinds. Here is a bit more about our overnight puzzle printing and what it offers.
Overview of Puzzle Printing Benefits
Getting customized puzzles means that you can use virtually any image. You can choose an image as simple or complex as you like, and even include text. Artwork and photographs are just two examples of popular options for our overnight puzzle printing services. Because you get results so quickly, you can also have your puzzle projects completed shortly after coming up with your latest puzzle ideas.
Uses for Custom-Printed Puzzles
There are countless ways to use your personalized puzzles. Puzzles make impressive gifts for birthdays, weddings, graduations, and other special occasions. Photos or artwork made by you or a gift recipient can be turned into puzzles in these cases. Los Angeles companies can use custom puzzles to promote products and services to clients or partners, and company-themed puzzles can be made for completion as part of team-building exercises in the workplace.
Choices Make Puzzle Customization Possible
Customization is essential to overnight puzzle printing that satisfies your goals. If you prefer, you can also let our designers get creative before you approve the designs for printing. The puzzles themselves are made of quality materials and come in different sizes and numbers of pieces. A variety of inks and both matte and glossy finishes are available.
The results of our overnight puzzle printing stand out in personal or promotional applications. With so many options available at our Los Angeles print shop, there are virtually no limits to the results you can achieve. To learn more about our personalized puzzles and other popular next day printing services, you can contact our print office by phone, email, or stop by our location.