Overnight Sticker Printing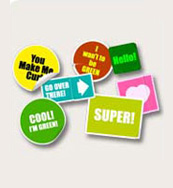 Stickers stand out among print items for their ability to be affixed to almost any surface for a variety of purposes. If you want a unique addition to your advertising toolbox, stickers are an excellent choice. On the other hand, stickers also make fabulous decorations at home, the office and elsewhere. Here is an extended look at stickers, including what you can do with them, where you can stick them and how the production process works when you visit our print shop in Los Angeles for overnight sticker printing.
How Can You Use Stickers?
How you use the products of our overnight sticker printing is entirely up to you, but reading about some of the most popular uses can spark ideas for your next project. In business, stickers can be as effective as flyers and other small promotional media. Stickers can be placed in stores, such as on and near products to draw attention to special pricing, as well as in public where permitted. Stickers can also be printed in standard bumper sticker size to promote products and services or simply amuse. Decoration is also easy with stickers, which can be placed in rooms, cars and other places to liven up otherwise mundane surroundings. Finally, stickers can be made and placed to mark items as belonging to an individual or business.
Where Can You Put Stickers?
Virtually any smooth, dry surface is a potential spot for a sticker, but a list of popular sticker locations can give you some idea of how versatile these items are. At businesses, stickers may be placed on walls, windows, storage compartments and laptops. Stickers around the home may be found on bicycles, strollers, cell phone holders, pet dishes and many other items. If you have an idea for our overnight sticker printing services, you can most likely find items on which to stick the results.
Every order for overnight sticker printing at our office comes with myriad options for design and materials. Our design staff will work to make sure you are satisfied with your designs before printing starts. By contacting our print shop in Los Angeles, you can learn more about our options for stickers and other rush printing services.