Overnight Vinyl Lettering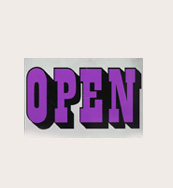 You can turn any surface into a sign with vinyl lettering, an adhesive print product that comes in many colors and styles. Instead of marking a message by hand or mounting a poster, you can apply vinyl letters to windows, walls and other surfaces for long-term, durable results. Our overnight vinyl lettering suits several applications in business and elsewhere. Below, you can learn more about these applications as well as the ways we customize this print product.
Using Vinyl Lettering for Business
Many companies use vinyl lettering for signs on pre-existing surfaces. Windows and vehicle doors are common sites for this material, but virtually any smooth, clean and dry surface can be used for display. In this way, companies may save money by avoiding having to purchase an entire sign. Vinyl lettering also can be mounted on machines and other equipment to instruct or warn employees or customers regarding use.
Vehicular Uses for Vinyl Lettering
The products of our overnight vinyl lettering work well for decorative and other applications. Some vehicle owners put vinyl lettering on the edges of their windshields as decoration. In other cases, drivers stick vinyl letters to their rear bumpers to make a custom statement to drivers behind them in traffic. DOT numbers, required for commercial drivers, can also be mounted this way.
Getting the Vinyl Lettering You Need
You can have overnight vinyl lettering made exactly as you need it when you visit our print office in Los Angeles. Simple, no-frills vinyl letters can be made for purely practical applications. When style is desired, the lettering can be enhanced with a variety of fonts and layouts. Various colors and sizes or lettering are offered to satisfy any project.
If you are opening or updating your business, our overnight vinyl lettering can make a fantastic addition to your plans. Decorative projects also can be achieved with this product. Many options are available, and results arrive quickly after you place an order. To learn more about our vinyl lettering and other same day printing services, you can contact our Los Angeles printing shop and speak with a professional.