Overnight Window Perf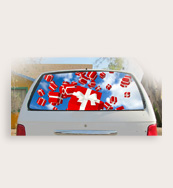 Window perf, or perforated window film, is a vinyl material that allows for ad display on any window without affecting outward visibility. Strong adhesive backing ensures that the material stays in place long after being installed. You can learn more about our overnight window perf services below, including some of the applications you might find for this print product.
Storefront Display
Many stores use window perf on their front windows to announce openings and promotional events. Logos, trademarked images and text can be added in large format, enabling customers to see the results from a distance. Our overnight window perf can be ideal for stores that want to maximize their space for advertising without having to pay for more space outside of their place of business.
Vehicular Display
Window perf is often used as part of vehicle wrapping projects to extend the graphics over the windows without blocking the view of the driver or passengers. In fact, this material is frequently seen on buses and trains in public transportation systems and on service vans used by remote professionals.
Shading from Perforated Vinyl
The ability to maintain visibility is not the only advantage of using window perf. Thanks to the shading effect of the material, stores and vehicles are shielded from some of the heating effects of sunlight. This can reduce energy costs, making window perf an excellent choice for green Los Angeles businesses.
Versatility for All Business Needs
Virtually anything can be placed on window perf with great results depending on design complexity, display site and other factors. Businesses can have existing graphics turned into window perf by our designers or have totally new designs made as part of our overnight window perf service. A host of different window perf types are also available to suit projects presented.
Our printing shop in Los Angeles offers window perf to suit any project. Whether you want to create an advertisement on a window in your store, home or vehicle, you can get fast results with our overnight window perf services. You can contact our print shop to learn more about our quick printing services for businesses.