Quick Booklet Printing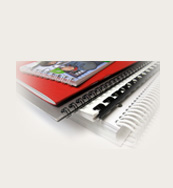 Booklets offer a low-cost but spacious alternative to brochures and books in many business projects. In addition to being effective for advertising, booklets work well as informational resources for consumers and employees. At our print shop in Los Angeles, you have access to many options for quick booklet printing at all stages of production. Here is more about how they compare to alternatives, how they can be used, and what booklet options are available from our print office.

Booklets Compared to Books and Brochures

In terms of both size and how much information they can hold, booklets are larger than brochures, but smaller than books. Unlike brochures, which are folded, booklets are bound in some way, making them easier to page through, as well as more durable. Whereas books can be hundreds of pages long, booklets are generally limited to anywhere from thirty to eighty pages.

Business Applications for Booklets

Our quick booklet printing can result in impressive catalogs, training manuals, and informational branding resources. Many product listings, including specifications, prices, and photos, can fit into an average-sized booklet. For employee training, a booklet can hold all the policies of virtually any company. Branding campaigns can benefit from the space contained in a booklet, which can be filled with detailed information on the goods and services provided to a given market.

Booklet Printing Is Flexible

With all of the options offered at our printing shop, quick booklet printing can be customized for any application. Clients can first establish the design goals of their project by speaking with our graphics professionals, who can incorporate any number of digital or paper-based graphical elements inside. Completely new designs can also be created as clients prefer. Printing can then proceed using the desired inks, finishes, and paper stocks for covers and interior pages.

Booklets that match your application, budget, and deadline are easily available at our print shop in Los Angeles. From design to production, every step necessary for quick booklet printing is conveniently offered at one location. You can contact our print shop to learn more about our same day printing services, including booklet printing and other options.