Quick Invitation Printing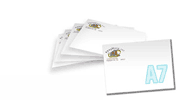 Invitations for special events should be impressive displays. Professional invitation printing provided at our print shop offers results that not only look better, but also arrive quicker than invitations made at home. For many types of events, professional invitations are also standard today. Here is a look at how our quick invitation printing compares to homemade invitations, how these invitations can be used and, what options come with this service.
Homemade or Professional Invitations?
It is true that homemade invitations offer an outlet for creative expression and are often deeply appreciated by close friends and family. For larger and more formal events, however, the disadvantages of homemade invitations can become more apparent. Invitations made by hand or printed at home are likely to take longer for polished-looking results. For those without significant artistic skills, making beautiful homemade invitations may be impractical and even impossible. Finally, professionally designed and printed invitations eliminate risks of expensive waste, because success is assured.
What Occasions Call for Professional Invitations?
Some of the most popular uses for our quick invitation printing include weddings, birthday parties, graduations, and corporate events in Los Angeles. Weddings, in particular, deserve fabulous invitations as once-in-a-lifetime events. Graduations and special birthdays can benefit from professional invitation printing when many guests are expected. When corporate events are planned, partners and customers may be more likely to attend after seeing an impressive invite.
How Can Invitations Be Customized?
Opportunities for customization abound in orders for our quick invitation printing. Different materials, including a host of card stock options, can be used. Numerous inks and finishes are available for the right touch. Prior to printing, however, clients can designate all aspects of their invitation design, including format, fonts, and graphics of all kinds.
Choosing our quick invitation printing for an event of any size is a smart choice that everyone will appreciate. Guests will enjoy the impressive quality, and planners can save a significant amount of time that they can devote to other parts of event planning. Those who want to learn more about our next day printing services, including invitations and other print products for events, can contact our Los Angeles print shop.