Quick Letterhead Printing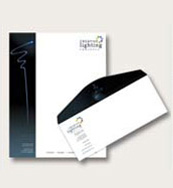 Letterheads offer a distinctive and practical touch to business and personal mail correspondence. Important information at the top of a letter is efficient and professional. The ability to have quick letterhead printing performed at our print shop in Los Angeles lets any individual or business gain impressive new stationery without waiting.

Primary Letterhead Benefits

In both professional and personal cases, a letterhead expresses the authenticity of the message and its sender. Both business and personal letterheads can give letter recipients contact information necessary for a reply. However, business letterheads also give senders a unique option for boosting brand exposure. For personal mail, letterheads offer an outlet for self-expression through special designs, fonts, and other visual elements.

Customization of Letterheads

For every client, our quick letterhead printing is customized for the best results. Clients can present examples of other letterheads that they like to be used as a basis for a new design, but clients can also have a completely new letterhead made. Clients can have simple text-based letterheads, or choose a variety of graphical options. For companies, letterhead customization ensures that the resulting stationery accurately represents their character to their partners and market. Logos can be incorporated, in full color or grayscale, along with other trademarked images of all kinds.

Letterhead Production Process

The design process is always completed before quick letterhead printing starts. With client satisfaction in mind, our designers work with clients to create letterheads that meet their needs. Clients can select from several options affecting the final product, including paper stocks, colors, styles, and a variety of matte and glossy inks. If clients prefer, matching envelopes can be included with the letterheads for a uniform presentation.

For mail that proves authenticity and impresses recipients with every message, letterheads are essential. Our Los Angeles print shop provides quick letterhead printing that works with the goals and timelines of clients. By contacting our print shop, clients can learn more about our letterheads and other rush printing services, including a number of stationery products.