Quick Mug Printing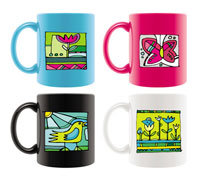 Mugs are ideal objects for customization. With plenty of space and a surface ready for printing, they can be made to bear graphics and text of all kinds. Every time one of these mugs is used, its printed content is viewed by the person drinking from it and those nearby. The following is more about our Los Angeles quick mug printing services, including how these services can be used and how the process works.

Photo Mugs

Digital printing has made photo reproduction possible on many surfaces, including mugs. This lets clients have mugs made to display photos of artwork, family, and friends. The results can make great gifts for birthdays and holidays.

Logos on Mugs

Company logos are simple to recreate on mugs. No matter how complex, the logo can be digitally resized and printed in high resolution for the best effect. With inclusion of contact information on the mug, the object also acts as a durable sort of business card that recipients can refer to for contact information long into the future.

Personal Messages on Mugs

Mugs with messages have long been popular for expressing a preference for certain hot beverages or for celebrating the recipient. With our quick mug printing, all clients can get mugs made with the right message for their project or occasion.

Mug Printing Process

True customization with quick mug printing requires options in design and materials, and our print shop offers both. As our on-site staff designs the mugs, they work with clients to ensure that the product will match their expectations. Images desired for printing can be provided in person or online, and our designers can be instructed specifically or generally. Printing can be performed using a host of different mug types and colors.

Quick mug printing is assured at our print shop in Los Angeles whether clients need one or hundreds of mugs. Through a combination of skilled, experienced staff members and the latest printing technology, our shop offers excellent results with every order. Clients can contact our print shop to find out more about our mugs and other same day printing services.