Quick Postcard Printing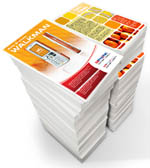 Postcards offer another option for mail that Los Angeles companies and consumers send. Instead of using conventional letters hidden inside envelopes, why not use eye-catching postcards? Virtually anything can be printed on postcards, including logos, product images and other graphics. Here is a look at how our quick postcard printing options compare to regular letters, what options we offer and how this product can be customized to your purpose.
Postcards Compared to Letters
Letters of any kind may be welcomed by recipients, but having unique graphics and text on the outside of the article can draw more interest right away. These properties make postcards popular stationery for both consumers and businesses. Postcards can create excitement as soon as friends and family open the mailbox. For companies, postcards make it possible to reach consumers reliably without requiring mail recipients to open anything.
Options for Printing Postcards
The possibilities for customization are much of what makes our quick postcard printing special. Although our graphics professionals can handle the entire design process if you wish, they can also create designs according to your guidance. You can also supply company graphics, personal photos, or artwork that you want printed on your postcards. When you are ready, our print technicians will print your postcards using the options you select related to finish, colors, paper stock, and more.
Customization to Your Goals
Our quick postcard printing can be customized exactly to your goals. For example, if you are using postcards for direct mail, you can have coupons, product information, and other items printed. You can choose heavy card stock and a glossy finish to make an especially strong impression on recipients. Depending on your budget and plans, you can also choose to have postcards printed in large or small sizes.
You have brilliant new stationery options with quick postcard printing at our office. Every order is completed quickly, letting you start sending or distributing your new postcards without delay. You can contact our print shop in Los Angeles to learn more about our postcards and other rush printing services, including envelopes, letterheads, and more.