Quick Sign Printing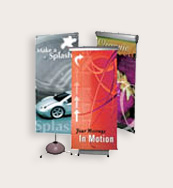 Signs are indispensable for successful businesses, and different signs can serve a business in different ways. Openings, sales, and other events all can be announced through signs to draw and maintain interest in what a company offers. With digital signage now the standard, companies have more options than ever before in terms of sign content and style. Here is a look at the advantages of quick sign printing services for Los Angeles clients visiting our print shop.
Fully Scalable
When graphics are designed or reproduced using computers, the graphics can be resized to meet the needs of any sign project. This allows companies to easily have cohesive ad campaigns across posters, banners, billboards, storefront signage, and more. Previously designed graphics, such as trademarked images and logos, can be inserted into these signs to be instantly recognized by the target market.
Permanent or Temporary
A company should have signage before it opens to maximize starting revenues, and our quick sign printing services can provide a permanent sign that will last for years in the elements. Beyond permanent signs, however, companies may need temporary signage to announce sales and other events, and our services can also address these needs. Consumers can also take advantage of temporary signs for garage sales, bake sales, and more.
Graphical Options
Virtually any graphic can be included in signs made through a digital process, particularly with help from the on-site professional designers who work on our quick sign printing projects. Pre-existing company graphics, such as product illustrations, can be included along with photos from manufacturers. In either case, graphics can be provided in print or digital format. These graphics can add an eye-catching quality to signs and, in the case of sales, show customers exactly what they can expect to find available.
You can visit our sign shop in Los Angeles as soon as you need signs to get great results quickly. Design options are virtually unlimited, and numerous materials are available for quick sign printing based on different needs and goals. To learn more about our signs and other same day printing services, you can visit, call, or email our print office.