Quick Sticker Printing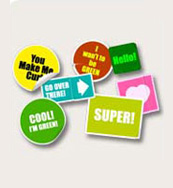 Stickers are an ideal compact, portable tool among the most popular promotional options available today. Our print shop in Los Angeles offers a wealth of sticker options to businesses and consumers in terms of design and materials, enhancing potential applications for this print product. Read on to learn more about our stickers, such as how we design them and the ways in which clients can use our quick sticker printing services.

How Our Print Shop Provides Stickers

As soon as clients visit our print office for quick sticker printing, our design staff records all specifications desired for the result. Clients can provide our designers with the graphics and information they want included on their stickers. Moreover, clients can discuss with our designers the artistic flexibility stickers allow. Clients can also choose from a variety of stocks, inks, and finishes. Our print technicians can outline popular options for stickers made for display in different locations, such as interior and exterior settings.

Usage of Our Stickers By Clients

The products of our quick sticker printing can work well in an array of applications, including advertising, expression, and labeling. For example, clients can get stickers made bearing graphics, prices, and information to promote openings, sales, and other commercial events. Musicians and artists can have eye-catching stickers made to advertise concerts and gallery shows. For creative expression, anybody can have stickers made with their favorite designs. Both companies and consumers may find stickers useful for marking property as theirs, instructing employees on safe equipment usage, and labeling items around the home or office for organization.

Stickers are low-cost solutions to promotional goals, allowing clients to get the word out in novel ways almost anywhere they can be applied. Interior and exterior walls, vehicle doors and windows, as well as personal belongings are just a few examples of places where stickers can be placed. Digital quick sticker printing on professional equipment maximizes the options clients get with this service. At our Los Angeles print shop, clients can learn more about our rush printing services, including stickers and more.