Quick Vinyl Lettering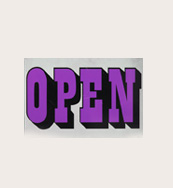 Vinyl lettering can be used to quickly and stylishly display messages on an array of surfaces. Made of thick, weather-resistant vinyl, our quick vinyl lettering lasts long after applied, saving clients money as a result. Both temporary and permanent signs can be made this way, helping companies gain more exposure and more business. Below is a deeper look at the benefits and applications of this service in Los Angeles, as well as options for vinyl letter printing.
Why You Should Choose Vinyl Lettering
You can convey your message precisely as you need while saving money when you select vinyl lettering for your signage. This material can be applied to virtually any smooth surface, including glass, metal, and painted materials. Affordability and a range of sizes means that you can display a few very large words or much more text in smaller format. Vinyl lettering is also easily removed, which ensures that you can keep your signage updated as needs change.
How You Can Use Vinyl Lettering
The types of surfaces appropriate for mounting our quick vinyl lettering can be found in many places. For example, these letters are commonly found on storefront windows, vehicle windows and doors, and boats. While some vinyl lettering is used for utilitarian projects, such as DOT number and phone number display, vinyl lettering can also be used for decorative purposes, such as during holidays.
Vinyl Lettering Customization
Before you have your quick vinyl lettering printed at our print office, you can tell us exactly how you want it to look. Several lettering fonts and sizes are available, and logos can also be incorporated. Vinyl lettering in a host of colors with different finishes can be used. Depending on whether you want to adhere your lettering inside glass or not, you can get reverse or standard vinyl lettering.
Vinyl lettering can be an effective choice for decor, advertising, and more. Our quick vinyl lettering ensures that you can start displaying your message right away. By contacting our print shop in Los Angeles, you can find out more about our vinyl lettering and many more rush printing services.