Quick Window Perf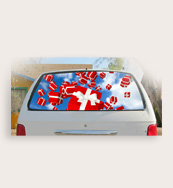 Window perf, also known as perforated window film, is a printing medium that enables large-format display of text and graphics on glass, while still allowing visibility outwards. In addition to extending advertising space to windows, perforated window film can potentially reduce energy costs by shading people on the inside from the sun. Here is more about our quick window perf services, including the options Los Angeles clients receive at our print shop.
Where Is Window Perf Used?
Virtually any window can be covered with our quick window perf. On storefront windows, business owners can add to their permanent signage or promote temporary events. Multiple window perf pieces can be used individually or together to cover larger storefront windows, regardless of dividers. Rear vehicle windows can also be covered this way without impeding visibility on the roadway. In many transit systems, this material is used for advertising on bus windows.
How Durable Is Window Perf?
Window perf is often installed on the outside of windows, so it is made to last even in the elements. Depending on the light exposure and cleaning care that it receives, our quick window perf can last for more than a year. Replacement can be performed as necessary to maintain fantastic results in cases of permanent window perf signage.
What Options Come With Window Perf?
Our quick window perf is designed expressly for the client with every order. Clients can deliver their own graphics, but our professional designers are also able to make new designs when clients prefer. Different levels of visibility are available based on the ratio of solid to perforated space, and clients can get window perf for mounting on the outside or the inside of their windows.
Window perf can be a versatile addition to advertising campaigns or permanent signage. With the latest print equipment and high-quality perforated vinyl, our print shop is well equipped to deliver effective window perf for any project. Clients in the Los Angeles area can contact our print shop to learn more about this and other next day printing services.