Rush Banner Printing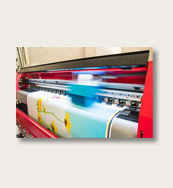 Banners are a fast, versatile solution to large-scale advertising needs. No matter the size of a business, it can use banners to increase awareness of its goods and products among its target market. Business owners and consumers alike can benefit from learning more about the advantages, applications, and options that come with our Los Angeles rush banner printing services.
Although billboards may be the defining option for promotion to a broader market, banners offer a smaller advertising medium that still reaches consumers across a wide area. Available in more than one material, banners can be used in a variety of interior and exterior settings. Logos, product images, and text can be printed on banners, increasing their flexibility for different projects. The availability of different mounting options makes our rush banner printing in Los Angeles useful for promotion in various settings.
Rush Banner Printing Los Angeles
Companies can use banners to announce sales, promotions, and other events at storefronts or points of sale. At industry conventions, banners are valuable for bringing attention to booths or the event as a whole. Event organizers may benefit from using banners at concerts or festivals, where these print products can announce artists, vendors, and other attractions. Flexibility for a range of situations is ensured by weatherproof inks and print surfaces offered by our Los Angeles rush banner printing services.
Several customization options let clients get their banners just as they prefer at our print office. When clients visit us to discuss their banners, they can specify whether to use their own designs, new designs, or a combination of the two. Different inks, including ones that stay durable under sun exposure, are available for outdoor banners. Glossy and matte finishes can be added to create a look appropriate to the project.
Clients who want to display their message to more people can benefit from using our rush banner printing in Los Angeles. Design and production are offered in one place, adding convenience to the quality inherent in every order. An email, call, or visit to our print technicians can be made by clients who want to learn more about our banner printing services.